G

oals of the Elaine Legacy Center
- Research, preserve, share our oral narratives of the Elaine Massacre of 1919
- Build a village that is a center of Delta spirituality, culture, arts, music, and education for meaningful tourism so that we all have an above average income and above average wealth accumulation. Linda Shelby's oral history is now documented with research in court houses, libraries, and private collections.
Elaine Museum and Civil Rights Center Building

*
Now on National Registry of Historic Buildings*
RESTORATION HAS BEGUN. Architect Ed Sergeant of Sergeant Architecture, PLLC and Central Arkansas Contractors have teamed for authentic restoration. In the meantime to visit The Elaine Legacy Center and Descendants of the 1919 Massacre, visit ELC at 313 College Ave., Elaine AR. between 9 am and 2 pm Tuesday-Friday. Or call for appointment 870-816-6798.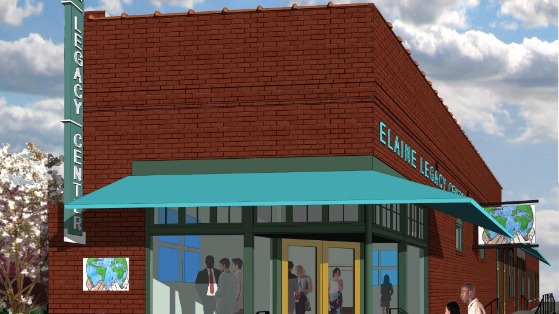 The Elaine Museum and Civil Rights Buildings is basically unchanged from 1919. It will house the sacred memory information, pictures, and oral narratives of the Elaine Massacre of 1919. The adjacent space will be a sacred Memorial Park. Andrea Anderson Gluckman's original exhibit of mass graves will be dedicated November 30, 2021.
This building in the 1919 Massacre was the center of the horror of mob violence. It is thought to be the oldest structure remaining in Elaine. Most recently it was Lee's Grocery. Dedication of the new musuem is planned as part of the 102 commemoration on September 30, 2022.
We'll update the web site as preservation advances. The first step is stabilizing the entire building on the corner of HWY 44 and Main St.
HOW TIAA PURCHASED
A LEGACY OF RACISM AND

MURDER

Register for TIAA DIVEST WEBINAR
Thursday, October 26, 8 pm. EST
To Register: https://shorturl.at/yBFLO
Watch the webinar and then join the movement to stop TIAA from killing with pesticides and chemicals, to redistribute land to rural African American Food Farmers, and to fund $10 Billion for Communities' Repair. Email elainelegacycenter@yahoo.com. Whether you are a TIAA retirement investor or interested in climate control or saving our planet, we welcome you to join the movement. TIAA has the power to lead us to what it says it wants to do, "Feed the World and end inequities." This movement moves TIAA toward its own goals. Once we are "Making History Together" the change will snowball with TIAA in the lead. Email elainelegacycenter@yahoo.com. To contribute, send through paypal account for Elaine Legacy Center or send a check to P O Box 42, Elaine AR 72333.