This is just example text. Click to edit and add your own content. This section design focuses primarily on text-content, which can be used to communicate information to your website viewers. You don't need any professional writing experience to create great text-content, all you need is an idea and a keyboard.
Book Launch:
People Power
July 16th, 2021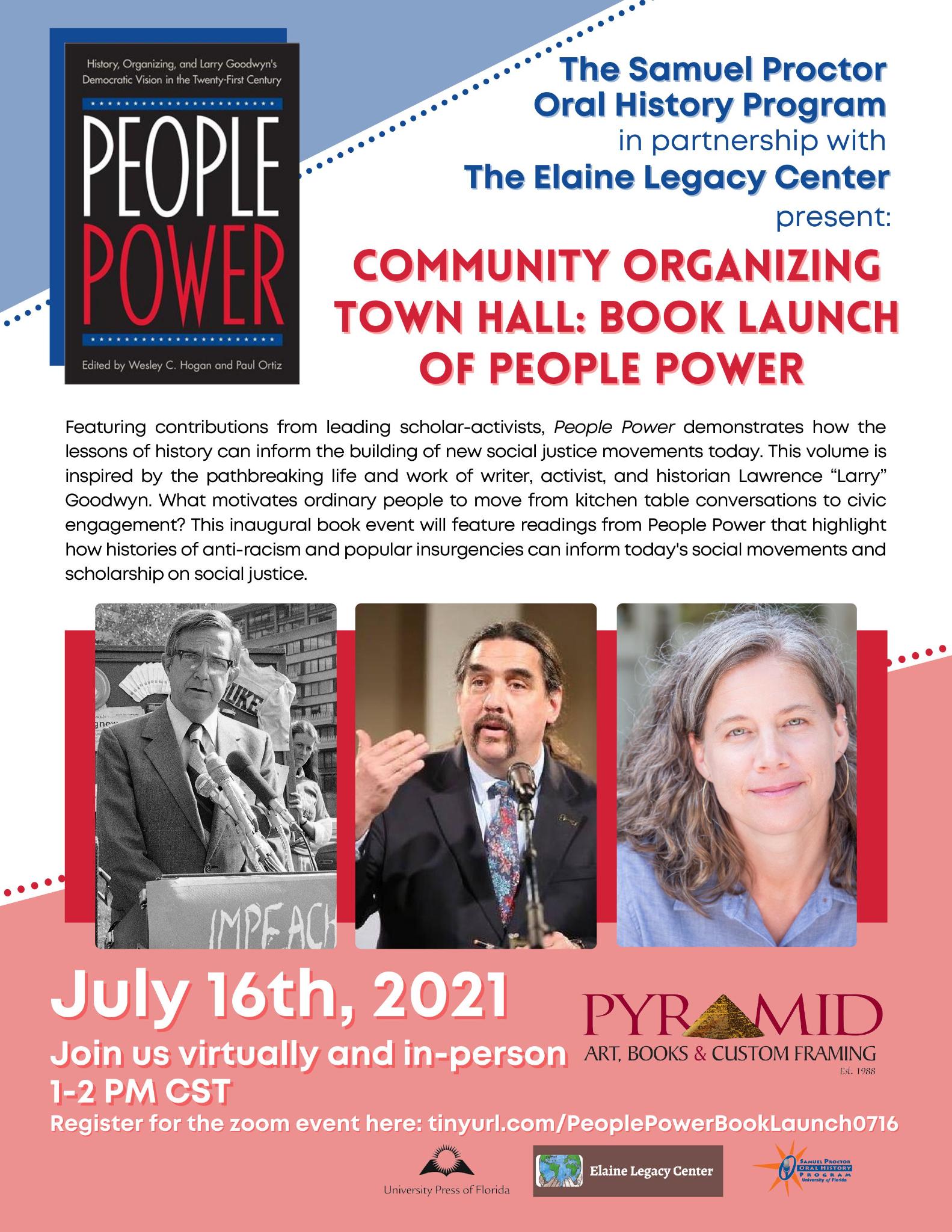 Please join the Samuel Proctor Oral History Program on Friday, July 16th at 1pm CST (2pm EST) in partnership with the Elaine Legacy Center and Pyramid Books in Little Rock, Arkansas for a hybrid Town Hall event for launch of People Power, edited by Paul Ortiz and Wesley C. Hogan, and published by the University Press of Florida.

This Community Town Hall event will be broadcast live from the Elaine Legacy Center in Elaine, Arkansas and virtually for all those elsewhere. Featuring contributions from leading scholar-activists including Tim Tyson, Marsha Darling, and Ernie Cortez, People Power demonstrates how history can inform the building of new social justice movements today. This volume is inspired by the pathbreaking life and work of writer, activist, and historian Lawrence "Larry" Goodwyn. What motivates ordinary people to move from
kitchen table conversations to civic engagement? This inaugural book event will feature readings from People Power that highlight how histories of anti-racism and popular insurgencies can inform today's social movements and scholarship on social justice.


To register for the event via Zoom, please click here:
tinyurl.com/PeoplePowerBookLaunch0716

Books can be purchased from Pyramid Books (https://www.pyramid1988.com/) your local bookstore, and from the University Press of Florida directly.

Elaine Commemoration - Homegoing for Silas Hoskins
September 30th, 2021
On September 30, 2021, the Elaine Legacy, in partnership with the National African American Reparations Commission and the Samuel DeWitt Proctor Conference, Inc. will honor the sacred memory of all who died in The Elaine Massacre of 1919. A Homegoing Service for them, named and unnamed, is scheduled and "Tomb of the Unknown but Not Forgotten" will be placed in Memorial Park.


Richard Wright Zoom Summit
June 17th, 2021
Elaine Memorial Tree Dedication @ John Brown University
September 30, 2020
Father-Daughter Legacy: End Capital Punishment Now.
Participate to Unseal the Truth, Decide to Act, Create Action
Join us for and conversation with Julie Wright (daughter of author and Elaine native Richard Wright) for a discussion and call to action to end capital punishment.
Moderated by: The Rev. Judge Wendell Griffen
Sponsored by: the Elaine Legacy Center and Pyramend Art, Books, and Custom Framing.

On Sept. 30, 2020, a group at John Brown University in Siloam Springs, Arkansas, led a memorial service. This was in solidarity with Elaine in remembrance of the 101st anniversary of the 1919 massacre.
Students, faculty, staff and community members learned about the massacre and were led in a prayer of lament and Scripture reading as the campus memorial tree was dedicated.
A history class also presented an onsite exhibit sharing more about the history of Elaine and how it impacts the work toward racial justice today.